Sustainable Dundee is working to tackle the Climate Emergency, but we need your support!
Join us on our #DundeeClimateJourney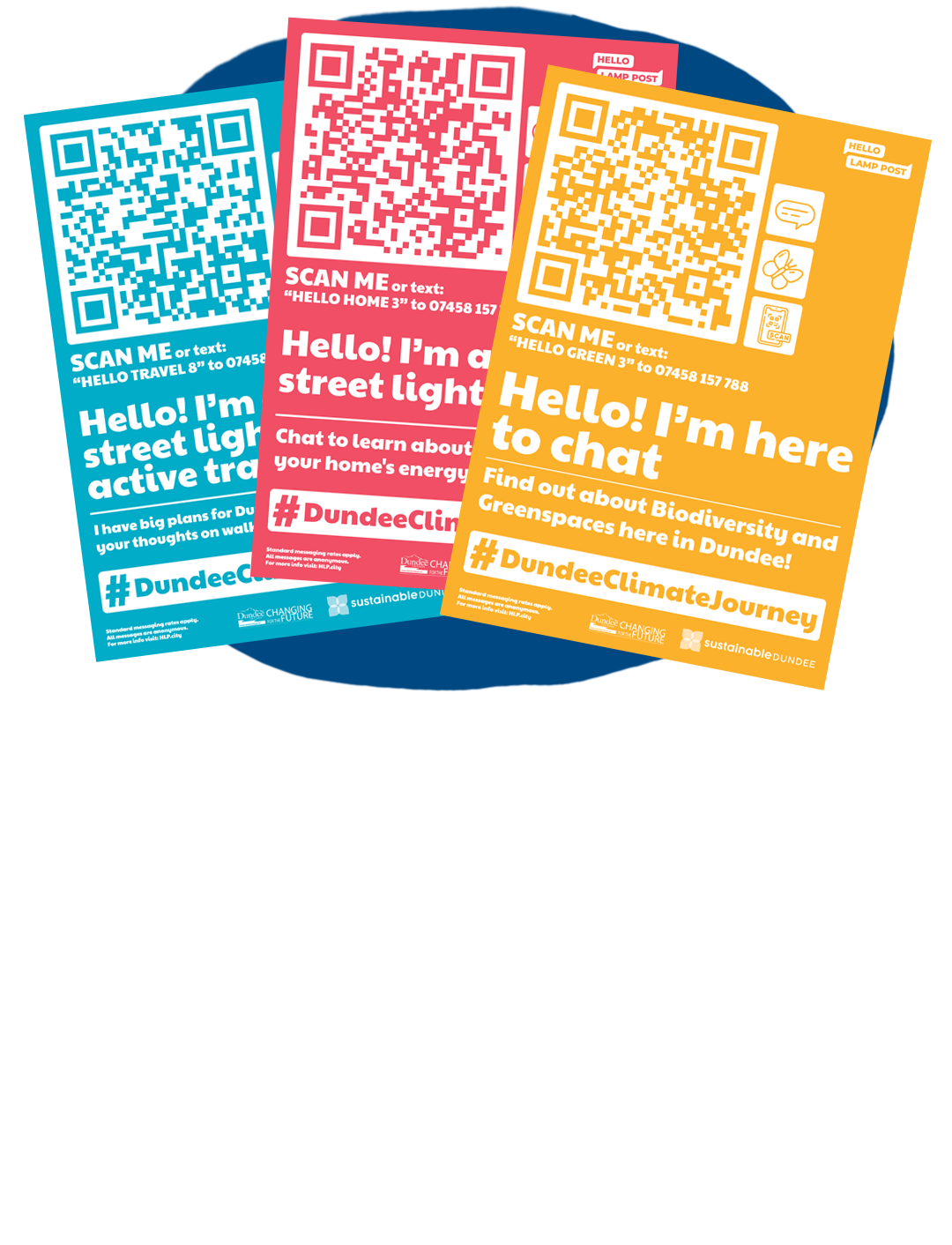 You may have noticed some interactive signs popping up on objects around Dundee, asking people to have a friendly chat. Using Hello Lamp Post, an innovative engagement platform that makes public spaces interactive, we're looking to hear from our diverse community about how they feel and share some information about how to take action against climate change. Users will even have the opportunity to win a prize if they take our Dundee Climate Action quiz!
🌳 Greenspaces & Biodiversity
💡 LED Street Lights
🚴‍♂️ Active Travel
🌊 Flooding and surface water management
🚗 Electric Vehicles
🏡 Energy and Retrofittings
💨 Air Pollution & Low Emission Zone
🌎 Climate Justice
💜 Living Neighbourhoods & local services
🎄 Living Christmas Tree
Locations
You can find talking signs all across the city. Explore the map below to find out more.
How it works
Anyone can speak to our talking objects – all you need is a mobile phone and a moment to spare!
Want to start a conversation?
Look out for our "Hello" signs
Scan the QR code on the sign or text the advertised phone number
Answer the object's questions, provide your feedback and get to know each other
Once you've wrapped up your conversation, look out for other objects around Dundee for a chance to speak about something completely different
With your help, we hope to
Engage with a wider variety of people in our community on Climate Change
Increase awareness of the work we're doing around Dundee to make our City more sustainable
Understand community perceptions on Climate Change
Encourage more people to speak about Climate Change
Provide support and tools on how the community can be more resilient to Climate Change
Benefits to you
Try something completely new using innovative & advanced technology
The chance to win a £20 Dundee Loves Local Gift Card
Have a two-way conversation, directly with us
Give feedback and easily access local services and information, 24/7/365
No apps to download
No account creation or forms to fill
No usage fees (texts are charged at standard local rates)
Comprehensive data security